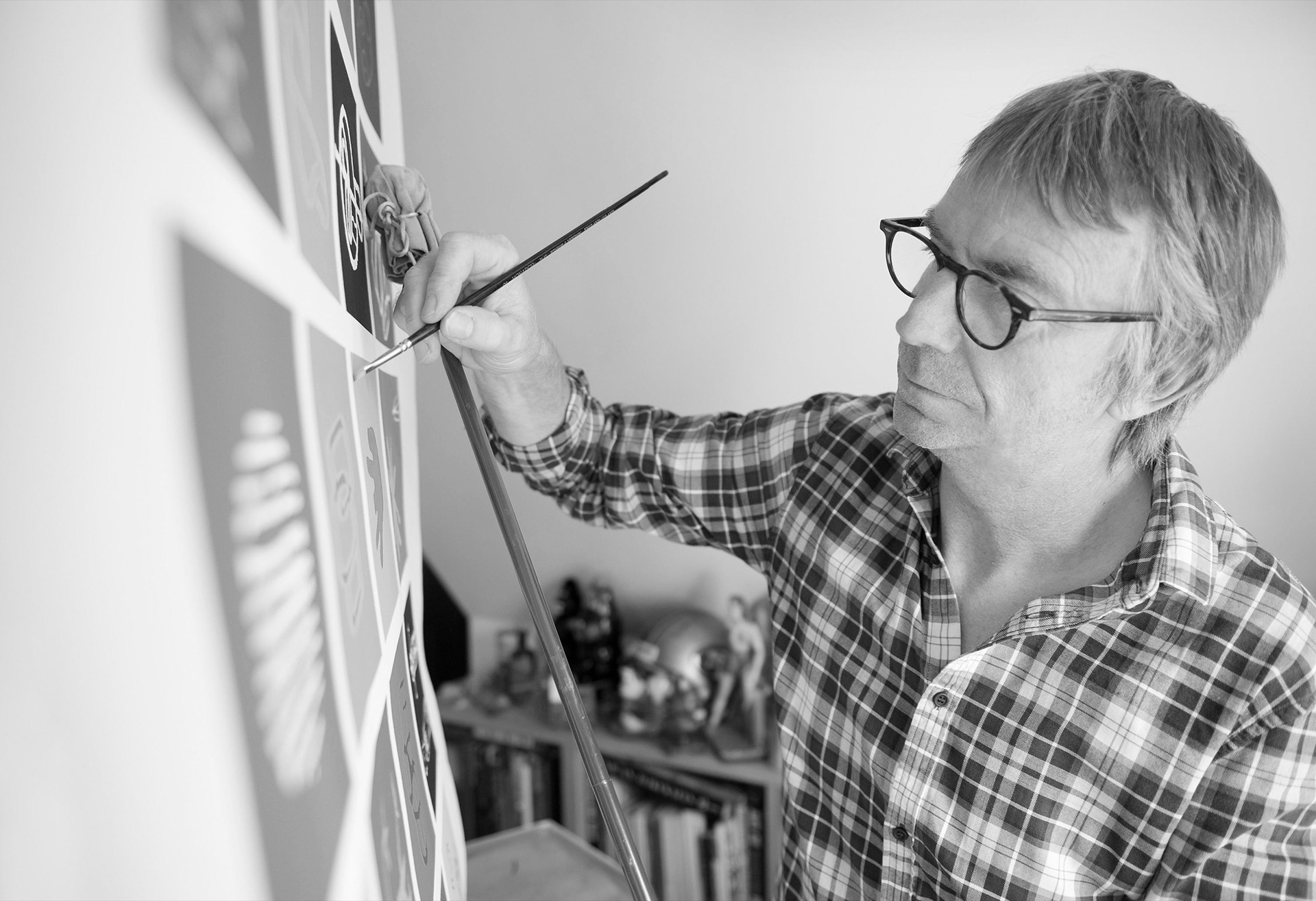 "Why do l love living with works by Ellis-Brown on my wall?
Maybe because they unlock a bank of potent images from my most informative years, when random TV stills or magazine cuttings imprinted themselves on my mind. They can belong to my own technicolour pop culture and to very distant ancestral tribes that I want to belong to. The Lone Ranger and cosmological rock drawings seem to shape us in equal measure.
Gordon takes these stranded images and with vivid sensations of blanket colour he feeds our voracious nostalgia. However, he continues to push the envelope of these cultural couplings and recently the tranced fields of pigment are agitating into textural frequencies that vibrate with our quest for collective identity. His work can be affirmative and resurgent but also beguiling and challenging.
I like to live with humour, adoration and wonder. That's why I love living with Gordon's works."
Jesse Leroy Smith, 
Artist and Curator
Tribes. Honour. Celebration.
Origin. Authenticity. Integrity.
Gordon Ellis-Brown opens a dialogue between ancient history, pop culture, space science and how he views the future of planet earth. Focusing on each image before relocating its context is a way of celebrating the enduring materiality of images whilst safeguarding the vulnerability of others. This dissonance subverts, disrupts and enriches our recognition of the visual world.
Ellis-Brown's practice was born from growing up in a seaside hotel during the late 1960's and early 70's, surrounded by an extended family of transient strangers, with little room to call his own. During his early years, the Apollo space missions and the iconic western movies were indelibly etched onto his mind, a form of escapism, but the extraordinary and unworldliness also captured his imagination - planets, alien visitations, cowboys and indians.
From a childhood by the sea to his later travels in California and New Mexico, Ellis-Brown's experiences have inspired him to seek the common ground, by revealing fundamental truths in conflicting beliefs and cultural traditions. He draws on his graphic design roots, using iconic imagery, immersive colour, symbolism - quite commonly in the form of petroglyphs and photography, using a complex process of paint, pigments, encaustic and collage to create his work.
Everything is connected. Ellis-Brown's quest is to reveal those connections, making the hidden become visible.
Ellis-Brown has exhibited widely in the UK and abroad, including the Royal Academy Summer Exhibition. His work is held in collections throughout the world and he is a member of the Newlyn Society of Artists.
• 'Final Frontier', The Moon Festival, Greenwich 2019
• 'Sol Force', Tremenheere Sculpture Gardens, Cornwall 2019
• 'Newlyn School of Art', Chapel House Gallery, Penzance 2018
• 'Sundance', Angus Hughes Gallery, London 2018
• 'The Other Art Fair' (curated by Saatchi Art), London 2018
• 'NSA on View', Tremenheere Gallery, Penwith 2018
• 'The Other Art Fair' (curated by Saatchi Art), Brooklyn, NYC 2018
• 'Newlyn School of Art Mentoring Show', PZ Gallery, Penzance 2017
• 'Come Rain Come Shine', Beaux Arts Gallery, Mayfair, London 2017
• 'Ten Years On', Porthminster Gallery, St Ives 2017
• '465 Sunflowers II', Royal Academy Summer Exhibition, London 2013
• 'Wild West', solo exhibition, Winchester 2011
• 'Soul Shaker' Bradshaw Foundation, Oxford 2011
• 'Howdy', Royal Academy Summer Exhibition, London 2010
• 'Primal Prints', Adam Street Member's Club, London 2010
• 'Sundance I', Royal Academy Summer Exhibition, London 2007
• 'Selected Photographs', Hamiltons Gallery, London 2006
• 'Light and Shade', Southampton Art Gallery 2003
• 'Moments', Portsmouth 1998
• Mentoring Alumni Programme, Newlyn School of Art 2019
• Studio Practice Programme, Newlyn School of Art 2018
• Mentoring Programme, Newlyn School of Art 2017
• International Echo Award in Graphic Design
• IBM Bursary for Creativity in Photography
• Society of Industrial Artists & Designers (MSIAD), Portsmouth University
• Society of Typographic Designers (MSTD), Portsmouth University
• Graphic Design and Typography, Portsmouth University